What a night... Enchilada dinner always takes up time. I can't just make a few. I always have to make at least 2 dozen. Tonight I made ground beef w/cheese and plain cheese inchiladas and made 1 dozen of each.
And rice...
This takes about 1 1/2 - 2 hours to make. Mostly prep work.
Here's the completed job...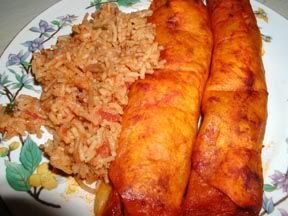 And 10 minutes later...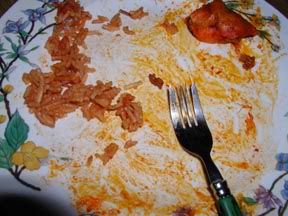 Sooooo much work for such little time... Oh but it's well worth every savory bit :-)
How to make these: (1 dozen)
1st. Brown your ground beef (about 3 lbs). Drain any grease. Place in a large mixing bowl. Add maybe 1/2 cup of enchilada sauce to taste (enough to flavor how much beef you use). Add the shredded cheese. Mix all together. Set aside.
2nd. Add one large can (28 oz) of enchilada sauce to skillet (large enough to dip tortilla in). Using another skillet, add enough grease to cover tortilla. Low to medium heat on both of these skillets.
Putting it all together:
Dip tortilla into sauce skillet (long enough to coat). Now dip that tortilla into grease skillet (long enough to coat). Lay on a plate and fill with meat mixture. Roll it up and place in spray coated 9x11 baking pan. You can put 2 layers in this size pan.
My shortcut is to coat and pile my tortilla's onto a plate and then do all my filling at once.
Make your own enchilada sauce (when I'm in the mood)...
Large bag of dried chilli pods. Cut open and remove seeds. Cut into large chunks or not. Put pods into a large enough pan to hold them and cover with water. Once pods are tender add pods to a blender with the water and blend them pods up. Strain the liquid into your skillet (yes strain, so you don't end up with pieces of pods... No NOT peas in a pod).
And now the punch line... LOL
After all this work. My daughter walks in from work with a bucket of finger lickin' good KFC.